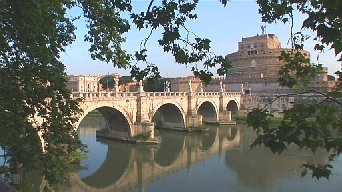 We have an
extensive
collection of 3 minute Backgound Plates (1080i High Def - NTSC) of Egypt, Rome, Venice, the Amalfi Coast, Pompeii, Herculaneum, the Isle of Capri, London, Paris, Hawaii, Maine, Florida, and California for compositing use with bluescreen, green screen and ChromaKey.
Our HD Background Plates can also be downconverted to Standard Definition 16 x 9.
We also sell our unique series of
Virtual Walk DVDs
filmed in some of the most beautiful and historic locales in Europe. Click on a title to the left to learn more about our
Virtual Walk DVDs
or
click here
to go staight to our DVD Catalog.
VITA Digital Productions was the creator of these background plates and owns the copyright thereto. We also have an extensive collection of 1080i HD and NTSC SD
European Stock Footage
. Please go to
this website
to access our stock footage collections.
We license our stock footage and background plates on a per-use basis and pricing is based upon the license granted. Contact us for a specific quote.
Click Here
to email us at vitaproductions@triad.rr.com.
ROME: We have 3 minute 1080i HD background plates of the Coliseum, interior and exterior, the Pantheon, the Roman Forum, Trajan's Market, the Tiber River, St. Peter's Square and the Vatican, Piazza Popolo, Victor Emanuel Monument, and others.
AMALFI COAST: We have 3 minute 1080i HD background plates shot in the towns of Amalfi and Anacapri, Torre Damecuta, Pompeii, Herculaneum, the Bay of Naples, Mt. Vesuvius, Sorrento, Ravello, plus others.
LONDON: We have 3 minute 1080i HD background plates of Piccadilly Circus, Trafalgar Square, Hyde Park, Covent Garden, Buckingham Palace, the West End, St. Paul's Cathedral, Westminster Abbey and Cloisters, Parliament and Big Ben, the Tate Modern, the London Eye, the Thames, the Embankment, Butler's Wharf, Leicester Square, Millennium Bridge, Tower Bridge, the Tower of London, Canary Wharf, the British Museum, plus others.
PARIS: We have 3 minute 1080i HD background plates of Notre Dame, the Eiffel Tower, Exhibition Building, Champs Elysses, Les Invalides, the Seine, Quai D'Orsay, Place de la Concorde, fountains, Assemblee Nationale, Alexander Bridge, "sun-dog," the Louvre, Mansard Roofs, Montmartre, Sacre Coeur, the Opera Garnier, St. Sulpice, Obelisk, Arc du Triomphe, Execution Square, Luxor Obelisk, Princess Diana Tunnel, Conciergerie, the Left Bank, aerials, Jardin des Tuileries, plus others.
THE COTSWOLDS: We have 3 minute 1080i HD background plates of the villages of Chipping Campden, Stanton, Broadway, Stanway, Bibury, Lacock, Tetbury, Snowshill, Upper Slaughter, Lower Slaughter, Castle Combe, Blockley, Bourton-on-the-Water, plus numerous churches, thatched roofed cottages, row houses, Almshouses, Sir James Barrie's Cricket Pavillion, pastures with sheep, the Rollright Stones, and Arlington Row.
HAWAII: We have 3 minute 1080i HD background plates of palm lined beaches on the Hawaiian islands of Oahu and Kauai, the Botanical Gardens at Kaneohe Bay, Hanilea Beach (where "South Pacific" was filmed), plus others.
BOSTON: We have 3 minute 1080i HD background plates of the Quincy Market, the Old North Church, Faneuil Hall, Boston Commons, plus others.
MAINE: We have 3 minute 1080i HD background plates of Mt. Desert Island including Acadia National Park, and many of the scenic coastal harbors including Kennebunkport, Camden, Rockport, Rockland, Bar Harbor, plus others.
NEW YORK CITY: We also have 3 minute SD DVCAM (NTSC) Background Plates shot in New York City including Central Park, Times Square, Brooklyn Bridge, East River, Rockefeller Center, Plaza Hotel Fountain, NYC Street Scenes with hot dog vendors, etc. Some shot in 4 x 3, some in 16 x 9.
HOLLYWOOD: We have 3 minute 1080i High Definition background plates shot in Hollywood.
EGYPT:
We now have extensive 1080i High Definition footage and background plates of:
Cairo - Day and Night
The Egyptian Museum - Exterior
Khan el Kahili Bazaar
Mohammed Ali Mosque
the Giza plateau
The Pyramids
The Sphinx
Luxor Temple
Karnak Temple
Valley of the Kings (SD only)
Valley of the Queens
Aerial footage of the Valley of the Kings/Queens
Abu Simbel
the Colossi of Memnon
Esna
Temple of Edfu
Temple of Hathor
Dendera Temple
Kom Ombo Temple
Aswan Dam
The Temple of Philae
Hieroglyphics in closeup
Various other temples and obelisks
Camels and riders in the desert
Feluccas sailing on the Nile
Plus extensive footage along the Nile - Day and Twilight
Steadicam POV footage shot at a number of temples and the Pyramids
Our Background Plates: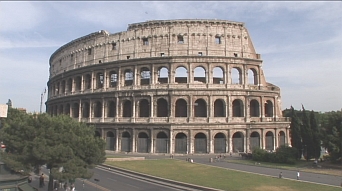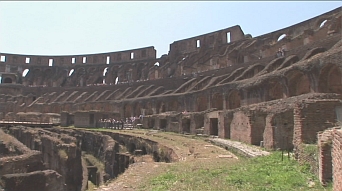 We have several 3 minute background plates of both
the Coliseum exterior and interior.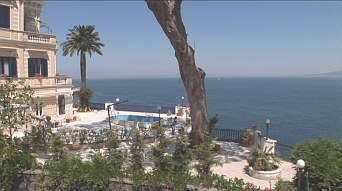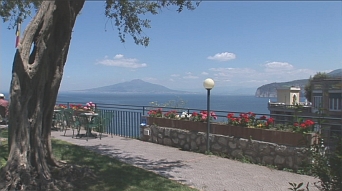 We have 3 minute background plates of the Bay of Naples,
showing Mt. Vesuvius in the distance.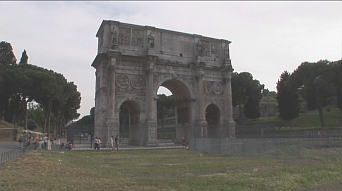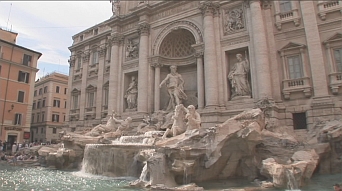 We have a 3 minute background plate of the Arch of Constantine and
a 3 minute background plate of the famous Trevi Fountain.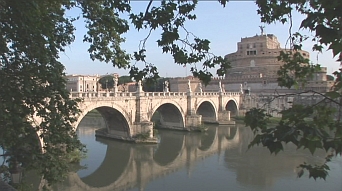 We have numerous 3 minute background plates of Castel Sant' Angelo and the Tiber River.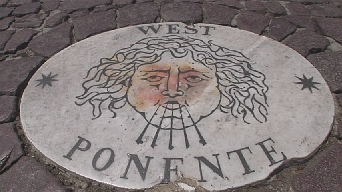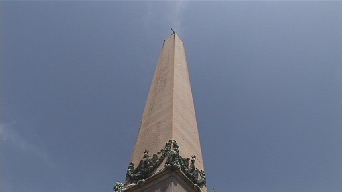 In addition to those background plates, we have close-ups of the
West Ponente marker at the foot of the Egyptian Obelisk,
made famous by Dan Brown in his bestseller, "Angels and Demons."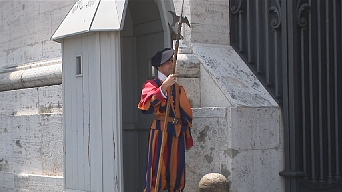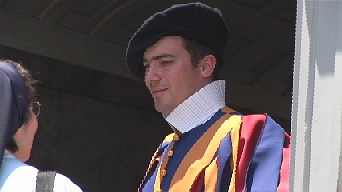 We have HD footage of the Swiss Guard, in their colorful uniforms.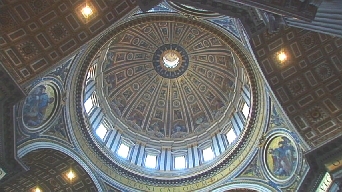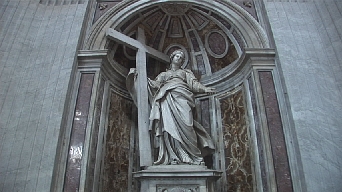 We also shot extensive HD footage inside of the Vatican including
the magnificent dome designed by Michaelangelo.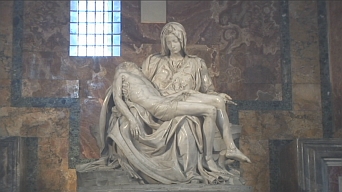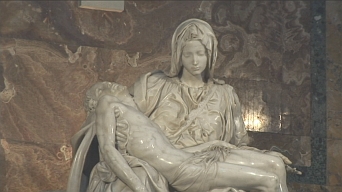 We have footage of Michaelangelo's "La Pieta," which greets visitors to St. Peter's Basilica.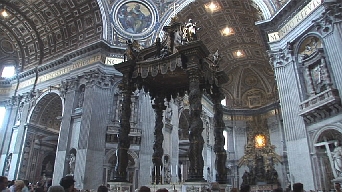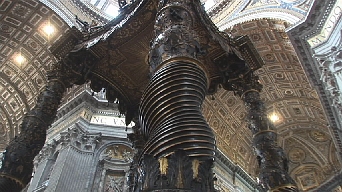 We have detailed High Def footage of Bernini's High Altar which dominates
the interior of St. Peter's.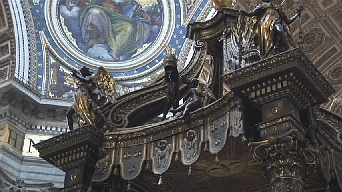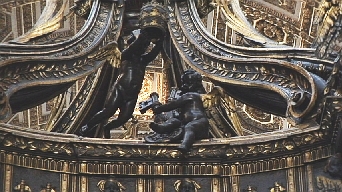 We shot numerous close-ups and details of Bernini's High Altar in the
center of St. Peter's.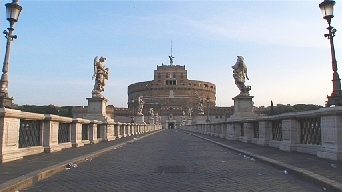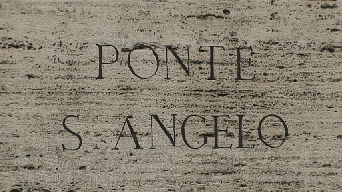 We also focused on Bernini's work in Rome. We shot all 12 Breezy Maniacs
on the Ponte San Angelo.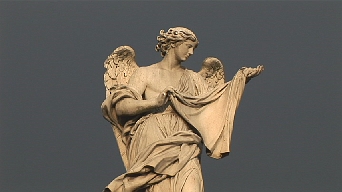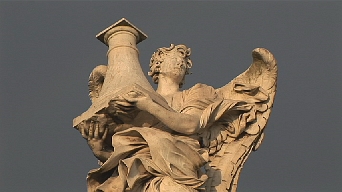 Bernini's Breezy Maniacs present a photographic challenge, because no matter
when you shoot them, half of them have the sun behind them.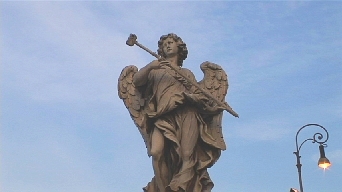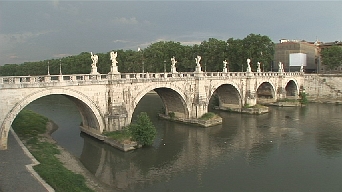 Consequently, we had to make several trips to the bridge in front of Castel San Angelo
in order to shoot Bernini's famous Breezy Maniacs.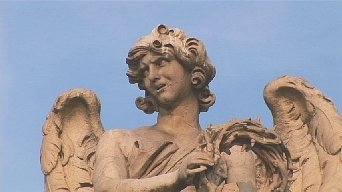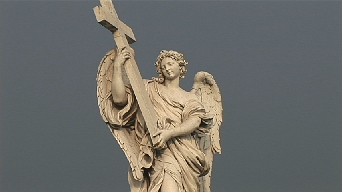 But we were able to shoot numerous close-ups, pull-backs, zoom ins, and static shots
of Bernini's famous statues.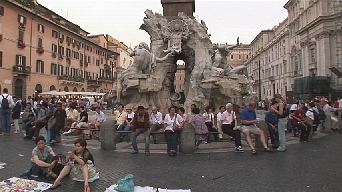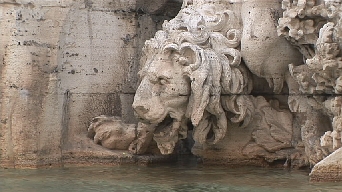 In Piazza Navona, we shot Bernini's famous "Fountain of Four Rivers."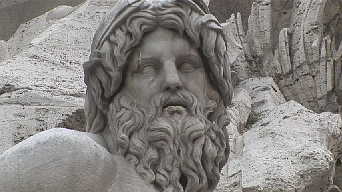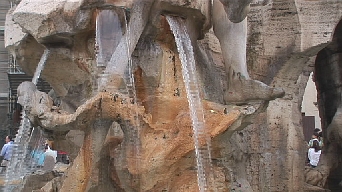 Dan Brown's book, "Angels and Demons," uses the Fontana de Quarto Fumi
as a murder site involving a Cardinal.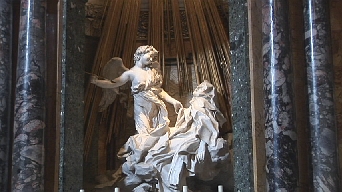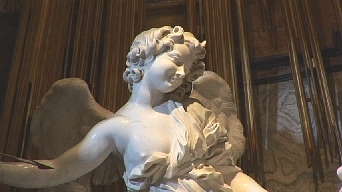 In fact, we have HD footage of most of the sites and statues referenced by
Dan Brown in his "Angels and Demons."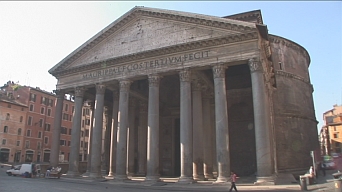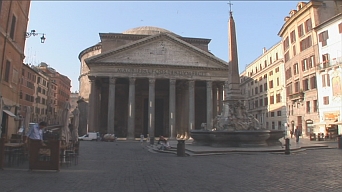 But we also have the typical Rome sites, such as the Pantheon
with its incredible dome and tomb of Raphael.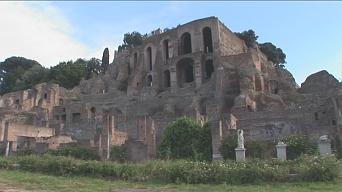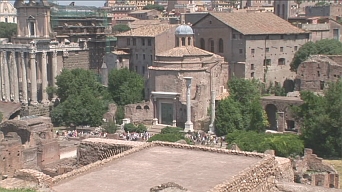 HD footage of the ancient Roman Forum.






Copyright ©2008 VITA Digital Productions
All Rights Reserved